Michael Jordan is an Underrated 90s Style Icon
By: Valeria Ramos
The NBA has long been associated with having the most stylish athletes in sports. From Dwayne Wade and Andre Igoudala to Kevin Love and Lebron James, the locker room walk before basketball games has become nothing short of a catwalk for players to showcase their pregame steeze.
With games suspended due to COVID-19, the biggest buzz in the basketball world right now is ESPN's The Last Dance, a 10-part documentary focused on Michael Jordan's run with the Chicago Bulls in the 90s.
Aside from the riveting inside look at the illustrious Michael Jordan and the highs and lows of the Bulls team, a standout of the series has been the 90s era fashion statements worn by Jordan and his fellow teammates in each episode. Oversized suits, berets, gold chains, small hoop earrings, and of course, the iconic Air Jordans are just a few staples of the Bulls players' wardrobe that are taking audiences back to the world of 90s fashion.
Mostly what I'm learning from #TheLastDance is that the '97-'98 Bulls were fashion icons.

— Bekah Henderson (@bekaHendo) April 20, 2020
The Last Dance showcases the Chicago Bulls' journey to winning three consecutive championships from1991-1993 and again from 1996-1998. The team's dynasty was led by Michael Jordan, Scottie Pippen, and Dennis Rodman who joined the team in 1995. Not only does the documentary feature a reel of unbelievable athleticism, but it also highlights tensions between Bulls players and their management (specifically general manager Jerry Krause).
Even for those who aren't a fan of sports, the talent, team drama, and 90s style choices all wrapped up in this ten-part documentary make it a nostalgic American artifact not to be missed. Here are just a few of our favorite style moments from the series.
Boxy sport coats and wide-legged trousers were a wardrobe staple for Jordan off the court. He often paired his oversized suits with subtle statement accessories like small good hoops and berets. At practice, Jordan rocked his Bulls gear over cut-off tees – an effortless look that we now refer to as athleisure. On the court, Jordan was winning from head to toe. From his Air Jordans to the ropes of gold chains he made iconic in the NBA's 1988 Slam Dunk contest, it's no wonder everyone wanted to be "like Mike."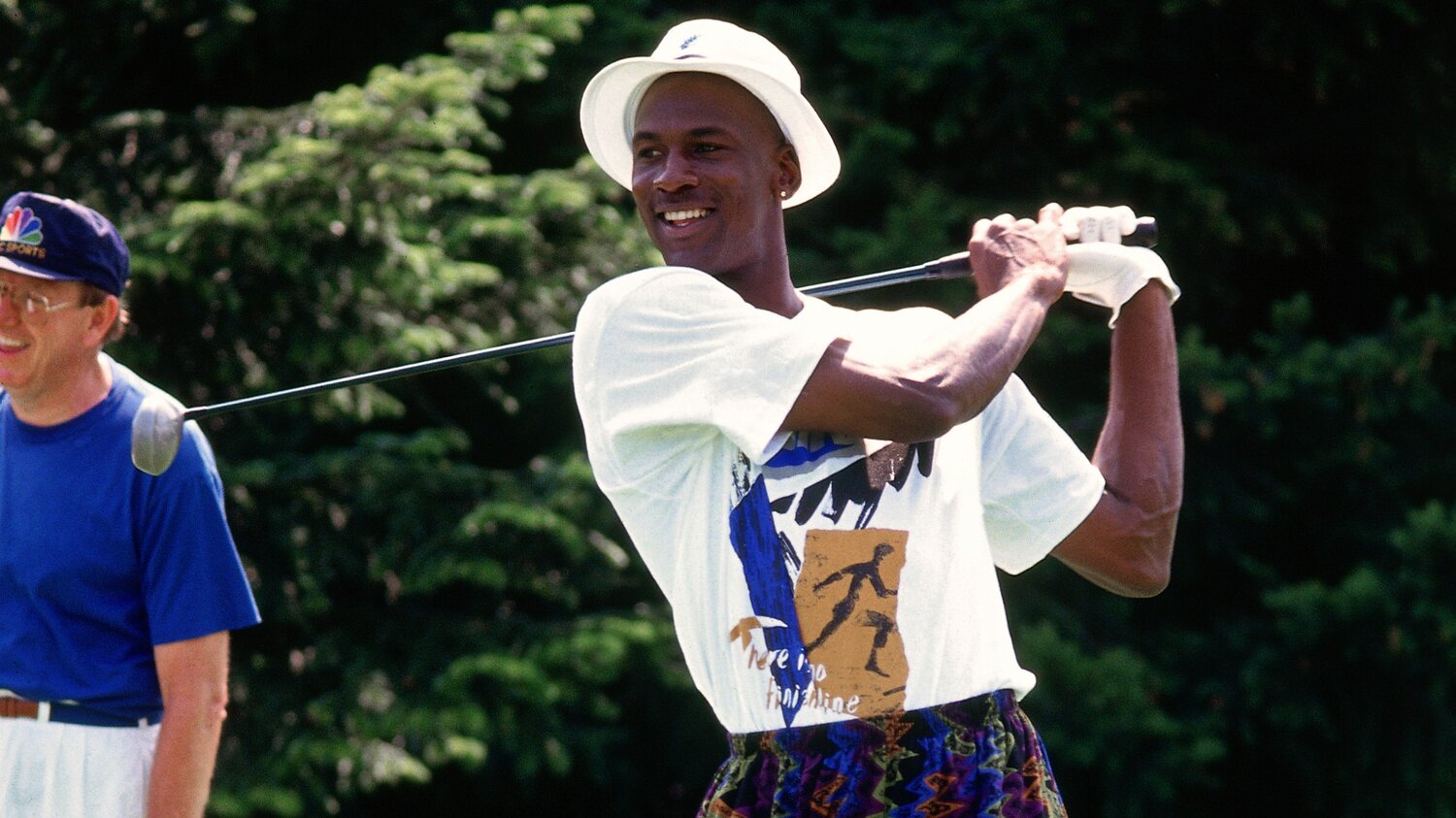 An avid golfer, Jordan's fashion statements made an appearance on the green as well. He often golfed (and gambled) with fellow NBA stars, revving each other up before games to come. In the second episode of The Last Dance, former Boston Celtic Danny Ainge recalled how a day of trash-talking during golf spurred MJ to score a record 63 point game against the Celtics in the 1986 playoffs. "I took a few bucks off of Michael that day, and we were talking trash to each other," Ainge said. "That might've been a mistake."
Jordan's transition from a skinny NBA rookie to the greatest player of all time is a fascinating watch on The Last Dance. While he had to earn his stripes on the court, his confidence, swagger, and style accompanied him from the start.
Jordan's style embodies the power of fashion. When you look good, you feel good – and in Jordan's case, you play even better. Suiting up in his Bulls uniform and Air Jordans was Michael's way of suiting up for battle – a battle he seldom lost.
"My mentality was to go out and win, at any cost," Jordan said of his game mentality in the eight-episode of The Last Dance. Tune in to The Last Dance on Netflix for more 90s fashion statements and career highlights from Jumpman himself.